Welcome to the Academy
The Adeyfield Academy is a fully inclusive 11-18 mixed academy, set in the heart of the Adeyfield community in Hemel Hempstead.
We are a proud member of the ATLAS Multi Academy Trust, serving students across three schools in Hertfordshire including St Albans Girls' School and Beech Hyde Primary School. This exciting partnership has helped foster a learning environment which is focussed on our shared goals of
Learning Without Limits.
The popularity of our school is evident by our growing numbers in Year 7 and 8, alongside the rich curriculum that we have tailored to the needs of our young people. Academic progress is at the heart of our work. We offer an exciting knowledge-rich and broad, balanced curriculum that will engage and challenge all students, no matter what their starting point. We endeavour to meet the needs of every child and eradicate barriers to their learning to be the best version of themselves.
We also deliver personal development profiles each day during tutor time to develop their confidence and resilience. This includes a wider range of interesting and stimulating opportunities such as extensive student leadership roles, Duke of Edinburgh Award and a variety of extra-curricular activities including boxing, cheerleading and cookery club. Students can also participate in creative arts, through singing, music lessons and art club.
We are thrilled to have received the School of Character Kitemark, recognising our commitment to developing the whole child; offering an environment where children feel safe and can flourish, regardless of ability. We aim for our students to be courageous, dignified, respectful, compassionate and ambitious. We want them to have good manners, show humility and empathy in their interactions in school and beyond the school gates as well as respect everybody's unique contributions.
"Relationships in the school are thriving and it is clear that the school's established and widely understood values are providing a solid platform for building future success"
We have established a culture of high aspirations and expectations and we hope the Adeyfield Five Star Student develops a keen sense of their responsibility in shaping a better future for themselves and their community. In entrusting the care and education of your child to us, you will be giving them the opportunity to make their own unique contribution to the school and in turn, to draw on all that we offer to make them ready for their journey through life.
We recognise that communication between home and the Academy is extremely important to us, and we value regular contact with parents/carers at all times to support students learning and provide the best pastoral care.
If you require any further information, or if you would like a personal interview and/or a visit to the Academy during a normal working day, we would be more than happy to organise this. Please contact our reception on 01442 406020.
Miss Dawn Mason, Principal
Our Head Student and Sixth Form Leadership Team
Melissa - Head Student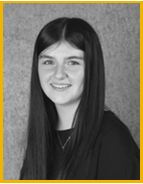 "Hi my name is Melissa and I feel fortunate to have the opportunity to be the next head student and am excited by the opportunities the role brings. I am looking forward to representing the school and being a voice for the student body.
Since joining the Adeyfield Academy in year 7 I have grown so much as a person. After transitioning from primary school I was quite shy and didn't have much confidence. I always saw this role as something to aspire to but never imagined myself talking in front of a small group let alone a whole year. I hope that I am able to show younger students that you can achieve anything you put your mind to but most importantly to never stop being yourself.
As head student I will continue to highlight successes and achievements of students. I would also like to start a school magazine/ newspaper that is aimed more towards students and entirely run by them with the support of sixth formers interested in media. I am also looking forward to working with student forum in order to relay any concerns, questions or feedback to the senior leadership team and make sure people feel listened to.
Overall, in the next year I will (along with the student leadership team) give back to the school by ensuring that there is communication between everyone within the school community".
Sixth Form Leadership Team
Melissa, Thomas, Toby, Amy, Jess, Felice and Veli