Welcome to the Academy
The Adeyfield Academy is a fully inclusive 11-18 mixed academy, set in the heart of the Adeyfield community in Hemel Hempstead.
We are a proud member of the ATLAS Multi Academy Trust, serving students across three schools in Hertfordshire including St Albans Girls' School and Beech Hyde Primary School. This exciting partnership has helped foster a learning environment which is focussed on our shared goals of Learning Without Limits.
The popularity of our school is evident by our growing numbers in Year 7 and 8, alongside the rich curriculum that we have tailored to the needs of our young people. The Adeyfield Academy has a culturally diverse intake, and we pride ourselves on our ability to support, nurture and challenge our students throughout their academic journey with us.
The Adeyfield Academy has a reputation for having excellent pastoral support with a caring and dedicated staff led by Miss Dawn Mason and her Leadership Team. Wherever possible, student groups are kept small to achieve the best outcomes, alongside appropriate support and learning pathways which are developed for the individual needs of each student. For these reasons, and because of our dedicated Special Educational Needs and Disabilities department, families of children with SEND needs are attracted to the school. Visitors to the school often comment on the friendly atmosphere that is promoted between staff and students at The Adeyfield Academy.
"the magic of the school is that you feel a sense of togetherness as you wander around. There is something in the walls here which you can't really explain"
At The Adeyfield Academy all students have equal access to the resources to help them to achieve their full potential and we work closely with parents and carers to achieve this aim. The Adeyfield Academy is a vibrant, inclusive school where students are encouraged to learn and achieve irrespective of gender, ethnicity, class, special educational needs, beliefs or any other personal characteristics.
Communication between home and the school is extremely important to us and we value regular contact with parents and carers at all times. Students are expected to achieve high standards of work and behaviour in a friendly but disciplined learning environment. We aim to provide students with the skills and abilities to help them develop into independent, productive and resourceful young people.
If you require any further information, or if you would like a personal interview and/or a visit to the school during a normal working day, we would be more than happy to organise this. Please contact our reception on 01442 406020.
Miss Dawn Mason, Principal
Our Head Student and Sixth Form Leadership Team
Melissa - Head Student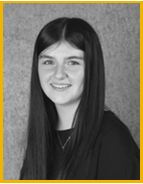 "Hi my name is Melissa and I feel fortunate to have the opportunity to be the next head student and am excited by the opportunities the role brings. I am looking forward to representing the school and being a voice for the student body.
Since joining the Adeyfield Academy in year 7 I have grown so much as a person. After transitioning from primary school I was quite shy and didn't have much confidence. I always saw this role as something to aspire to but never imagined myself talking in front of a small group let alone a whole year. I hope that I am able to show younger students that you can achieve anything you put your mind to but most importantly to never stop being yourself.
As head student I will continue to highlight successes and achievements of students. I would also like to start a school magazine/ newspaper that is aimed more towards students and entirely run by them with the support of sixth formers interested in media. I am also looking forward to working with student forum in order to relay any concerns, questions or feedback to the senior leadership team and make sure people feel listened to.
Overall, in the next year I will (along with the student leadership team) give back to the school by ensuring that there is communication between everyone within the school community".
Sixth Form Leadership Team
Melissa, Thomas, Toby, Amy, Jess, Felice and Veli