Safeguarding
Safeguarding is at the heart of everything we do at The Adeyfield Academy. It is of paramount importance that all our students are safe, well cared for and are happy learners.
Safeguarding includes our commitment to safe recruitment of staff, security around the building, child protection, anti-bullying, online and e-safety, PREVENT duty and many other areas. We ensure all policies under the safeguarding umbrella are reviewed regularly, click here to view our Child Protection, Anti-bullying, Online safety, Radicalisation, Health and Safety Policies.
We make sure The Adeyfield Academy is a safe and secure place for all our students by;
ensuring all staff are fully trained in being vigilant to signs that a student is experiencing difficulties in or outside of the school environment. Our Safeguarding Team are trained at a minimum level 2 safeguarding to ensure that there is always someone on-site able to deal with child protection issues
having dedicated pastoral staff trained in pastoral care, and utilising external agencies to provide specialist support when needed
ensuring all students know that there are a variety of staff they can turn to if they need help or support with a safeguarding matter
ensuring that the curriculum gives students information, opportunities to explore and learn about all aspects of welfare and safety, both inside and outside the classroom
ensuring the security of our site is reviewed regularly and discussed at Student and Parent Voice
To view our Safeguarding and child Protection Policy please click here.
Click here to view the Government Statutory Guidance on Working together to Safeguard Children.
---
Who should you notify if you have a Safeguarding Concern?
If you have any concerns about your own child or any other child at The Adeyfield Academy, please notify one of the following staff members on: 01442 406020 / admin@adeyfield.herts.sch.uk.
Miss I Walbank - Designated Safeguarding Lead (DSL)
Miss E Hazell - Deputy Designated Safeguarding Lead (DDSL)
Ms J Day - Deputy Designated Safeguarding Lead (DDSL)
Ms V Blackburn - Safeguarding Governor
If you have concerns about a child that does not attend The Adeyfield Academy and would prefer to speak to Children's Services personally, please call 0300 1234 043.
Please note that information of a safeguarding nature may not be able to be kept confidential.
---
The Adeyfield Academy Safeguarding Team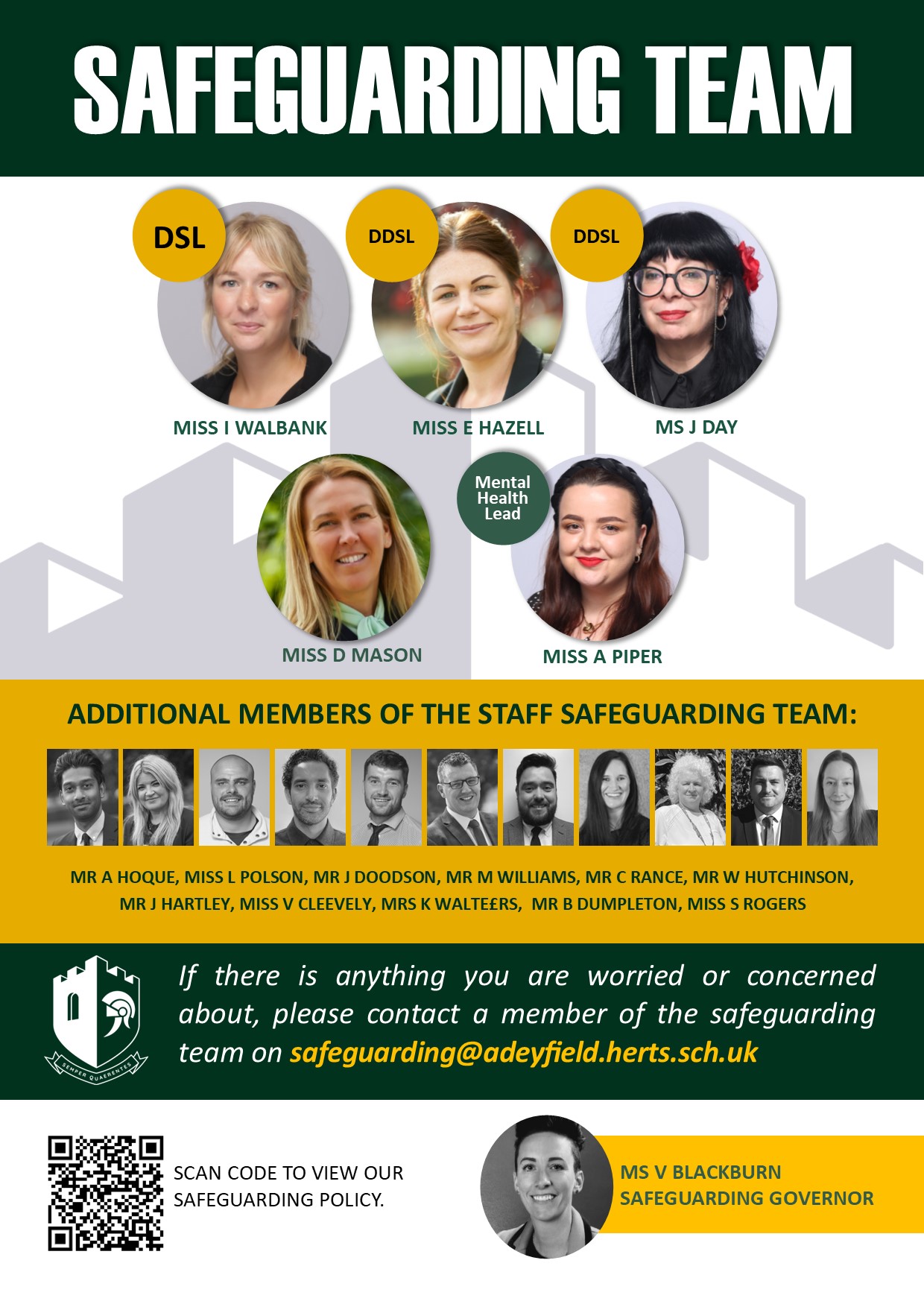 ---
Safeguarding Action and Procedures Flowchart