SPANISH
Spanish is the native language of over 442 million people across 20 different countries in the world. It is currently ranked as the world language with the second largest number of native speakers. Learning Spanish therefore gives our students fantastic opportunities to communicate effectively in a large number of countries. It will also provide the foundation for learning other languages in the future, equipping students to study and work internationally as global citizens.
At The Adeyfield Academy, our experienced and passionate Spanish teachers provide a safe environment in which students can build their confidence, take risks and become resourceful, capable learners.
Learning a language makes a unique and valuable contribution to the education and preparation for students' future lives for work and or leisure.
Curriculum Intent
The intent of the Spanish curriculum is to foster students' enthusiasm for language learning and therefore deepen their understanding of how language is constructed. Students will learn to express their ideas and thoughts in another language as well as understand and respond to its speakers, both in speech and in writing. They will also be able to communicate for practical purposes, learn new ways of thinking and develop a wider appreciation of other cultures . Through languages, we promote students' curiosity, resilience, problem-solving skills and deepen their understanding, not only of their own identity and culture but also that of other countries. We also strengthen students' literacy in their home languages through explicit teaching of grammar and syntax.
In order to build confidence with productive language (writing and speaking) all students will be provided with Spanish Success key vocabulary booklets and sentence builder booklets for each unit of study. Regular retrieval practice of high frequency language will take place in order for students to feel secure with core vocabulary.
The curriculum is designed to be progressive, with continual revision of prior knowledge so that students can build on the vocabulary and structures they learn over time to produce more complex language.
The curriculum for languages aims to ensure that all students:
understand and respond to spoken and written language from a variety of authentic sources
speak with increasing confidence, fluency and spontaneity, finding ways of communicating what they want to say, including through discussion and asking questions, and continually improving the accuracy of their pronunciation and intonation.
can write at varying length, for different purposes and audiences, using the variety of grammatical structures that they have learnt.
discover and develop an appreciation of a range of writing in the language studied.
Grammar and vocabulary:
identify and use tenses or other structures which convey the present, past, and future as appropriate to the language being studied.
use and manipulate a variety of key grammatical structures and patterns
develop and use a wide-ranging and deepening vocabulary that goes beyond their immediate needs and interests, allowing them to give and justify opinions and take part in discussion about wider issues
use accurate grammar, spelling and punctuation
Linguistic competence:
listen to a variety of forms of spoken language to obtain information and respond appropriately
transcribe words and short sentences that they hear with increasing accuracy
initiate and develop conversations, coping with unfamiliar language and unexpected responses, making use of important social conventions such as formal modes of address
express and develop ideas clearly and with increasing accuracy, both orally and in writing
speak coherently and confidently, with increasingly accurate pronunciation and intonation
read and show comprehension of original and adapted materials from a range of different sources, understanding the purpose, important ideas and details, and provide an accurate English translation of short, suitable material.
read literary texts in the language [such as stories, songs, poems and letters], to stimulate ideas, develop creative expression and expand understanding of the language and culture.
Key Stage 3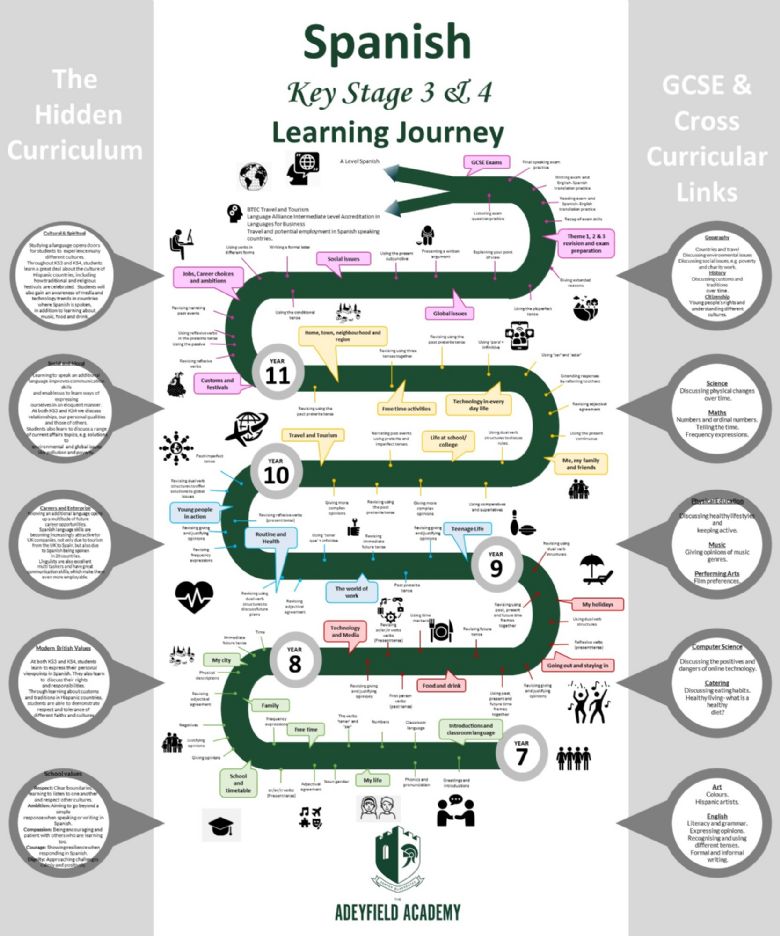 In each year there is a wide range of vocabulary and structures taught via a variety of topics. The scheme of learning is progressive, so that students are then stretched and challenged with language learnt in the previous year in addition to learning more advanced structures in the current year. The scheme of learning progresses from building simple sentences to more complex structures and using a variety of tenses. The Spanish curriculum at KS3 is designed to prepare students to approach GCSE level with confidence, should they decide to opt to continue with language learning at KS4.
Atumn Term
Spring Term
Summer Term
Year 7

Introductions, phonics and classroom language

My life

Free time

School and timetable


Family and friends

My city


Year 8
Technology and Media

Food and drink

Going out and staying in

My holidays
Year 9

Teenage life

The world of work

Routine and Health
Young people in action
Key Stage 4
At the end of KS3 Year 9 students can select to take an option in GCSE Spanish for KS4.
Exam Board: AQA
Specification: 8698
Course content
GCSE Spanish builds on the themes studied in Years 7, 8 and 9, but develops students' variety and complexity of language so that they are able to express themselves on a variety of topics, including current social and global issues. Students will develop their spoken and written skills to a level where they would be able to deal with a range of real life situations in the countries where Spanish is spoken. Students will eventually complete a 2 year course to gain a full GCSE.
Entries for the final examination are tiered at Foundation (Grades 5-1) and Higher (Grades 9-4).
Themes Studied
THEME 1: IDENTITY AND CULTURE
Me, my family and friends
Technology in everyday life
Free-time activities
Customs and festivals in Spanish speaking countries
THEME 2: LOCAL, NATIONAL, INTERNATIONAL AND GLOBAL AREAS OF INTEREST
Home, town, neighbourhood and region
Social issues
Global issues
Travel and tourism
THEME 3: CURRENT AND FUTURE STUDY AND EMPLOYMENT.
My studies
Life at school/college
Education post-16
Jobs, career choices and ambitions
Mode of Assessment:
Students will sit exams in all four language skills at the end of Year 11. These will be equally weighted at 25% each:
PAPER 1
Listening: Understanding of spoken language extracts. Question types : Multiple choice and written responses. (75% of answers in English, 25% of answers in Spanish)
PAPER 2
Speaking : Asking and answering questions in Spanish via the following tasks : 1. Role play scenario. 2.Photo description and questions 3. General conversation.
PAPER 3
Reading : Understanding of written language extracts. Question types : Multiple choice, written responses (75% of answers in English, 25% of answers in Spanish) and translation from Spanish to English.
PAPER 4
Writing : Translation into Spanish. Extended writing questions Spanish (40 word, 90 word and 150 word responses in Spanish depending on if students are entered for Foundation or Higher Tier)

Extra Curricular
Spanish club
All key stages welcome. Learn more about Spanish speaking culture through music, film and games.
Year 9 Spanish language leaders (from October 2021)
We envisage offering a residential visit to Spain post Covid 19 when travel restrictions are lifted.