SCIENCE
Curriculum Intent
At The Adeyfield Academy the Science curriculum is designed to foster a curiosity about the world around us, enable citizens of the future to understand and explore the world effectively and to be able to use scientific principles to both answer and ask questions about the universe and everything in it.
Science impacts on every aspect of modern life, and we are living in a scientifically and technologically rich world that is advancing at a faster rate than has ever been experienced before. Enabling students to develop the knowledge and skills necessary to interact with our ever advancing world means they will be able to use science when they choose what to eat, or choose products with the least impact on the environment or make informed decisions about their health-care The science curriculum is intended to prepare students to not just pass exams but to provide them with the skills necessary to make a positive contribution to the world in which they live.
Our intent is that our curriculum
inspires a love of learning and curiosity about the world
ensures students understand the second greatest advance in the history of humanity – the scientific method – and can apply this process to questions they might ask
develops the practical knowledge and skills to use scientific equipment safely and accurately to competently test ideas and demonstrate phenomena
fosters a sense of awe in the beauty of our universe and how we can work together (or individually) to deepen our understanding of ANYTHING
informs knowledge of the key workings of the human body so that educated opinions and decisions can be made about health, products and stories in the media
develops analytical skills to scrutinise data presented in any format to draw out meaning
combines basic Maths and English skills in context to help students develop their application skills
informs students of issues facing themselves and the wider world to help this future generation look after themselves and their planet
ensures students leave The Adeyfield Academy able to critically analyse and evaluate data, stories and phenomena in everyday situations
improves transferable skills such as time-keeping, teamwork and organisation
develops students learning skills and independence, so they can go on to be life-long learners
makes students more employable, so they become a self-sufficient and productive member of society
delivers opportunities to apply the skills learnt in the form of a wide range of practicals
helps students develop logical thinking and problem solving skills
teaches students how to be safe and evaluate risks in everyday life and in particular scientific contexts
Key Stage 3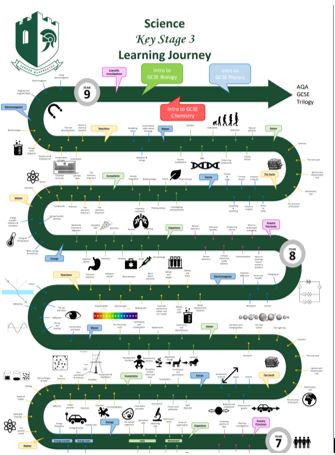 Science encompasses a wide range of Biology, Chemistry and Physics topics. We follow the AQA Key Stage 3 Science syllabus through the Activate Science teaching scheme to enable our students to follow a spiral curriculum up to GCSE.
Students have three lessons a week in Year 7, 8 & 9. All three main disciplines (Biology, Chemistry and Physics) are given equal time. These lessons are a combination of practical and theory lessons, with regular activities to support student learning and attainment. Progress tasks and tests provide quantitative data to support the tracking of students, to ensure that all students make good or better progress. Context drives our syllabus, helping to relate science to real-life concepts and experiences.
Students are offered a variety of opportunities throughout the course to practise and demonstrate their skills scientifically.
Year 7
Course content

Energy (energy costs & energy transfer)
Organisms (movement & cells)
Matter (particle model & separating mixtures)
Ecosystems (interdependence & plant reproduction)
Forces (speed & gravity)
Earth (earth structure & universe)
Genes (variation & human reproduction)
Waves (sound & light)
Reactions (acids and alkalis & metals and non-metals)
Electromagnets (potential difference and resistance & current)
Year 8
Course content

Energy (work & heating and cooling)
Organisms (breathing & digestion)
Matter (elements & periodic table)
Ecosystems (respiration & photosynthesis)
Forces (contact forces & pressure)
Earth (climate & earth resources)
Genes (evolution & inheritance)
Waves (wave effects & wave properties)
Reactions (types of reaction & chemical energy)
Electromagnets (magnetism & electromagnets)
Year 9
Course content

Chemistry - Atomic Structure and the periodic table
Biology – Cell biology
Physics – Atomic structure
Chemistry – Bonding, structure and the properties of matter
Biology – Organisation
Physics – Particle model of matter
Key Stage 4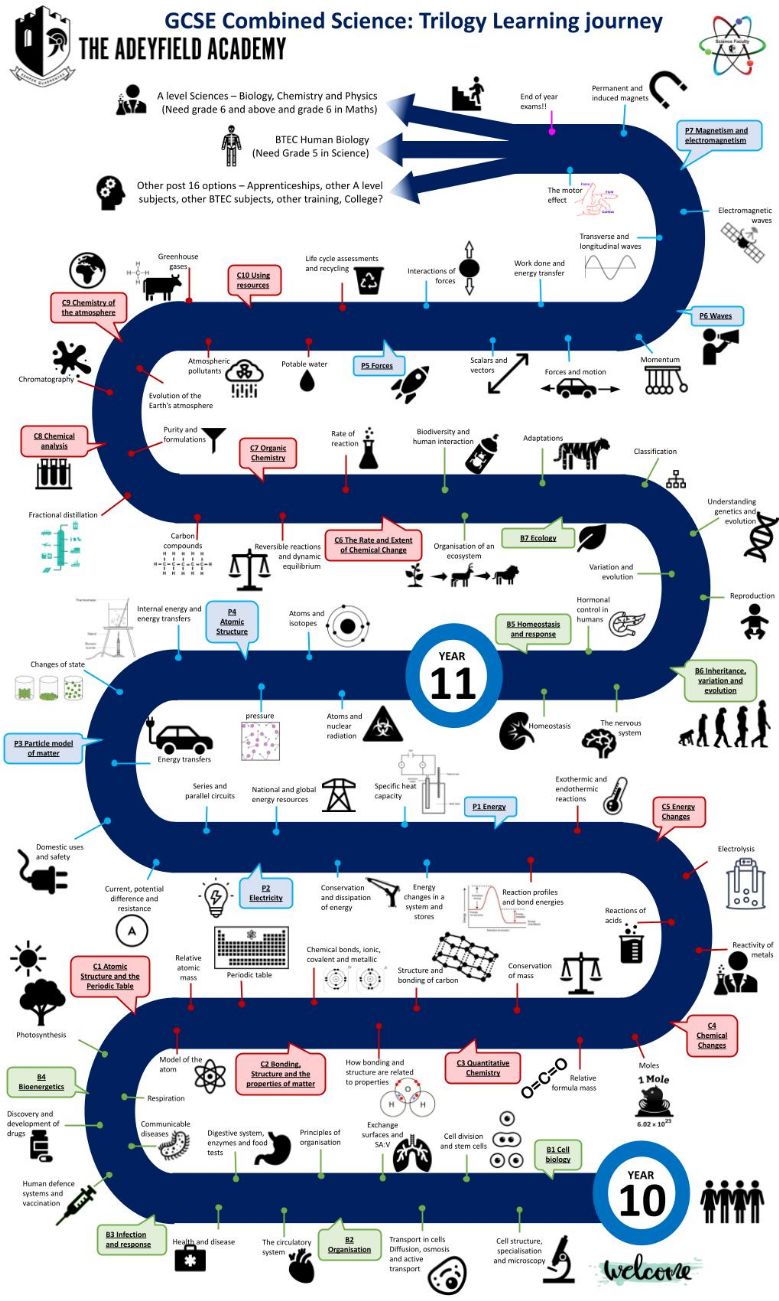 Exam board: AQA course: Combined science: Trilogy Specification: 8464
| Year 10 / Year 11 | Biology | Chemistry | Physics |
| --- | --- | --- | --- |
| | Infection & response | Quantitative chemistry | Energy |
| | Bioenergetics | Chemical changes | Electricity |
| | Inheritance, variation & evolution | Energy changes | Waves |
| | Homeostasis | Chemistry of the atmosphere | Forces |
| | Ecology | Using resources | Magnetism & Electromagnets |
| | | Organic chemistry | |
| | | Chemical analysis | |
| | | Rate & extent of chemical reactions | |
Science skills are assessed through each unit in Key Stage 3 and GCSE required practicals are assessed during the relevant units throughout Key Stage 4.
Mode of Assessment:
Biology paper 1 and paper 2 – 1 hour 15 minutes each
Chemistry paper 1 and paper 2 – 1 hour 15 minutes each
Physics paper 1 and paper 2 – 1 hour 15 minutes each
A Level Biology
Level of Course: 3
Board: OCR
Specification: H420
Description
A Level Biology aims to enthuse students in the essential knowledge and understanding of different areas of the subject. Practical opportunities are regularly explored to allow the development of scientific skills, as well as mathematical and problem solving skills. The course considers the decisions made by society and how science contributes to the success of the economy.
Biology A Level is an academic course involving fundamental practical tasks. The course is assessed through written papers of the concepts alone, with practical skills assessed separately. The course aims to develop an interest in further study and careers in Biology.
There are 6 units:
1. Development of practical skills in biology
2. Foundations in biology
3. Exchange and transport
4. Biodiversity, evolution and disease
5. Communication, homeostasis and energy
6. Genetics, evolution and ecosystems
How is the course assessed?
At A Level, components assess the content from different modules as outlined in the table below. All components contain synoptic assessment.
Assessment

Title

Modules assessed

Lenght of

paper

Assessment value

Biological processes (01)

1, 2, 3 and 5

100 marks

(2hours 15minutes)

37%

Biological diversity (02)

1, 2, 4 and 6

100 marks

(2hours 15minutes)

37%
Unified biology (03)
1-6

70 marks

(1 hour 30 minutes)

26%
Practical endorsement in biology (04)
Throughout course

N/A

Details of assessment to be confirmed by Ofqual.

Reported separately
A Level Chemistry
Level of Course: 3
Board: OCR
Specifcation: H432
Aim of the course:
The aim of this course is to develop students' interest in, and enthusiasm for chemistry, including developing an interest in further study and careers in chemistry; an appreciation of how society makes decisions about scientific issues and how the sciences contribute to the success of the economy and society; developing essential knowledge and understanding of different areas of chemistry and how they relate to each other.
The course is divided into chemical topics, each containing different key concepts of chemistry. Once the key features of a chemical topic have been developed, applications are considered. While the teaching of practical skills may be integrated with the theoretical topics, they are assessed separately; this allows skills to be developed in a way suited to each individual student.
There are 6 units:
1. Development of practical skills in chemistry
2. Foundations in chemistry
3. Periodic table and energy
4. Core organic chemistry
5. Physical chemistry and transition elements
6. Organic chemistry and analysis
How is the course assessed?
At A Level, components assess the content from different modules as outlined in the table below. All components contain synoptic assessment.
Assessment

Title

Modules assessed
Length of paper
Assessment value
Periodic table, elements and physical chemistry (01)

1, 2, 3 and 5

100 marks

(2hours 15minutes)

37%
Synthesis and analytical techniques (02)

1, 2, 4 and 6

100 marks

(2hours 15minutes)

37%
Unified chemistry (03)
1-6

70 marks

(1 hour 30 minutes)

26%
Practical endorsement in chemistry (04)
Throughout course

N/A

Details of assessment to be confirmed by Ofqual.

Reported separately