MUSIC
The Music curriculum is designed to promote the enjoyment and knowledge of, and ability in the performance and composition of music.
We aim to develop students who can communicate musically with fluency, accuracy and control of the musical resources used. They will develop knowledge of a variety of instruments, styles and approaches to performing and composing whilst also developing their theoretical understanding; being effective and independent learners with enquiring minds.
They are required to develop knowledge of music technologies and their use in the creation and presentation of music. They are to learn to recognise contrasting genres, styles and traditions of music and to appreciate the diverse cultures of music, and develop some awareness of musical chronology.
Students will have the experience of being creative learners, and encouraged to broaden their musical experience and interests, developing imagination and fostering creativity, forming their own opinions through self-expression and discussion, but also by listening and considering the thoughts and feelings of others. They will develop a knowledge of an appropriate musical language to reflect upon and evaluate musical performances.
Units of work include: popular music through the ages, rhythms of the world, film and gaming music, classical music, songwriting, music technology, musical elements and superheroes and tonality.
Curriculum Intent
The aims of the music department are to develop a practical love of learning for all through creative discovery and
The curriculum is designed to be progressive, so that students can build on the skills and knowledge they learn and master them.
Students will be able to develop a number of transferable skills which they can apply to in any field of work they wish to pursue.
The curriculum aims to give all students of whatever ability the opportunity to master these skills and knowledge through a perseverance stickability approach.
To enable students to feel safe and confident in their learning environment to take risks and learn from mistakes.
To foster intellectual inquisitiveness about how the music that they listen to every day is built up and created.
To enjoy learning in a practical manner having experienced the best possible engaging and challenging lessons which foster and promote interests for later life.
To encourage and inspire students who wish to take on further study from selecting this as an option at GCSE, A level, university and the world of work.

Key Stage 3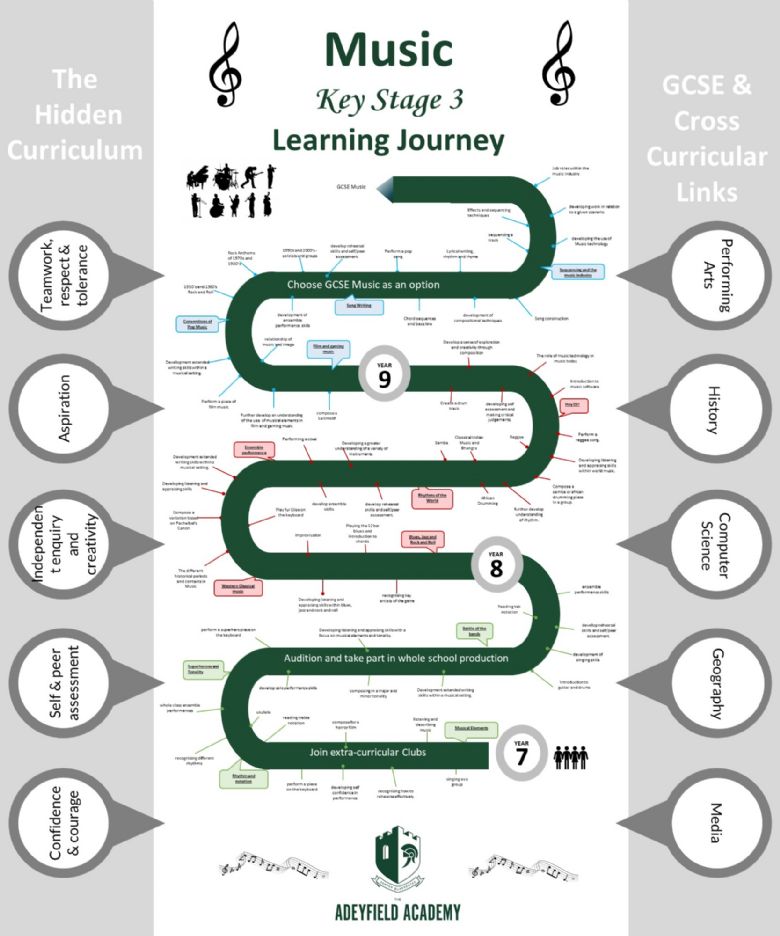 Students will have two music lessons during the two week timetable. Students will learn 4 to 5 different units in a year to allow them to develop their performance, compositional skills and theoretical understanding for each unit. Students will develop the practical skills they need to be able to understand styles and instruments in certain contexts. In addition to the practical skills, students are taught key theoretical knowledge and skills, with strong links to a variety of other subjects such as performing arts, history, geography and citizenship. Numeracy and literacy play a key part in the delivery of the music curriculum, with a focus on rhythm and key musical terminology. The school's character programme, SMSC (social, moral, spiritual and cultural) and health and safety are embedded across the whole of the KS3 curriculum.
In each year, a wide range of instruments are used and the scheme of work is progressive, so that students are then stretched and challenged with the skills they learnt in the previous year in addition to learning more advanced skills and techniques in the current year.

| | Unit 1 | Unit 2 | Unit 3 | Unit 4 | Unit 5 |
| --- | --- | --- | --- | --- | --- |
| Year 7 | Musical Elements and Keyboard Skills | Rhythm and Notation | Superheroes and Tonality | Battle of the Bands | |
| Year 8 | Blues, Jazz and Rock and Roll | Western classical Music | Ensemble Performance | Rhythms of the World | Hey DJ! |
| Year 9 | Film and gaming Music | Conventions of Pop | Song Writing | Sequencing and the Music Industry | |
Key Stage 4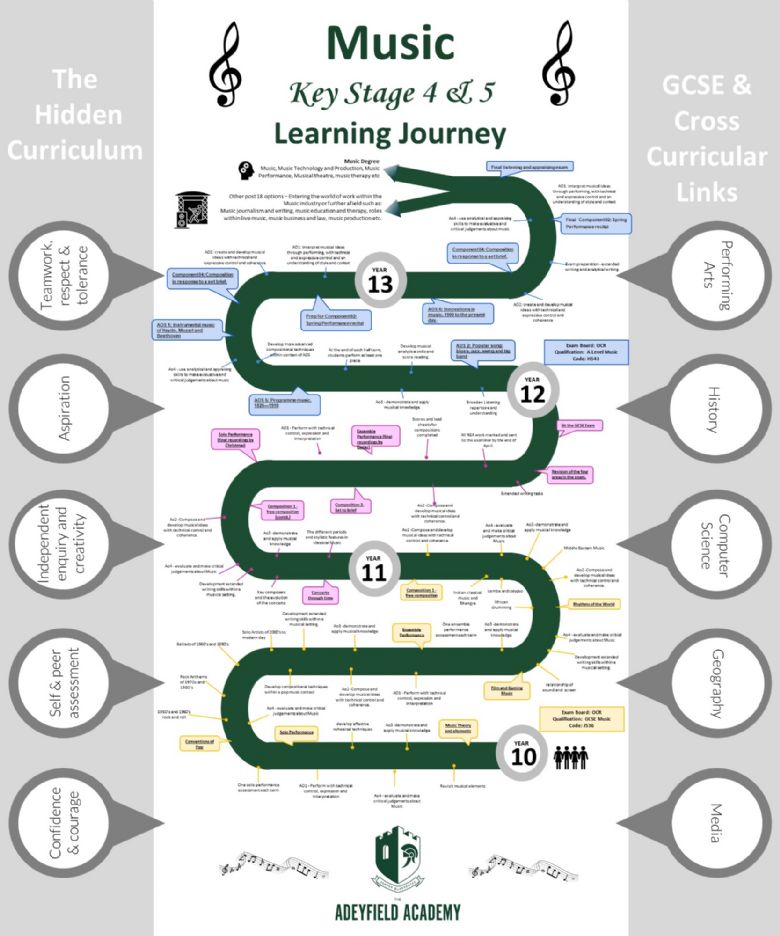 At the end of KS3 Year 9 students can select to take GCSE Music at KS4. This will be the OCR GCSE Music Qualification
GCSE
Music
Component 01: Integrated portfolio (NEA - 30%)

One solo performance

One composition - within a style and genre of the students choosing.


Students develop their understanding of performance and composition through exploration of their own instrument within styles and genres of their choosing.

They demonstrate their playing skills and abilities by practising and performing a piece musically, accurately and with appropriate interpretation. In the composition element of this component, they demonstrate knowledge of composition techniques, use of musical elements and resources, including specific instrumental and technology techniques.

Component 03: Practical component (NEA - 30%)

One ensemble performance

One composition - linked to one of the areas of study, in response to a set brief from the exam board.

Students develop their skills and understanding of performance and composition. The focus of the performance aspect of this component is on the demands of performing with an ensemble. Students are also required to compose a piece of music appropriate for one of the areas of study in response to a set brief.
Component 05: Listening and appraising (exam - 40%)

Listening exam - 1hr 30 mins

80 marks


This component focuses on areas of study 2, 3, 4, and 5. Students demonstrate their knowledge and understanding of musical elements, contexts and language.

The Areas of Study are:
● Area of study 2: The concerto through time
● Area of study 3: Rhythms of the world
● Area of study 4: Film music
● Area of study 5: Conventions of pop.
Students will sit in the exam hall listening to different pieces of music from the areas of study and answer them. There will be two questions from each area of study. The exam paper overall will consist of multiple choice, single word answers, rhythm and notation recognition and dictation, questions that require explanations, and a maximum of two questions where an extended answer is required.
A Level Music
Level of Course: 3
Entry Requirements
Students will need to perform a recital on their chosen instrument in March of the second year, therefore students must be at least a Grade 5 standard by the end of the first year of study.
Under some circumstances, students who have not followed a GCSE course will be accepted depending on a demonstration of proficiency in music theory (e.g. Grade V Theory or higher) and performing on an instrument or voice.
Area of study
Unit 1: Performance
A recital of two (25% of final grade) or three (35% of final grade) pieces on their chosen instruments. One of the pieces in the 25% option, and two of the pieces in the 35% option must link to an Area of Study. The recital should be of between 6 and 8 minutes for the 25% option, and 10 and 12 minutes for the 35% option at a minimum standard of Grade VI.
Unit 2: Composition
A choice of two (25% of final mark) or three compositions (35% of final mark). Depending on the option, one or two of these will be in relation to a brief set by the board, and the second or third will be a free choice.
Total time for the 25% option would be 4-6 minutes, and for the 35% option, 8-10 minutes.
Unit 3: Students sit a 2 hour written appraising paper
Knowledge and understanding of musical elements, contexts and language will be explored through the study of set works that fall into the following categories; The Western Classical Tradition, one of Rock & Pop, Musical Theatre or Jazz and one of Twentieth Century Music, or Music into the Twenty-First Century.
Students will also be required to apply this knowledge to unfamiliar works.
Expectations of students
To regularly attend instrumental or vocal music lessons and to participate in at least one extra-curricular Music club, set preparation to be completed as well as background reading and listening around the historical context of set works. Regular instrumental practice must be undertaken.
Learning methods
A combination of learning methods will be employed - ranging from research lessons, teacher and student led score analysis, practical performance, individual composition time and listening and harmonic exercises.
Careers implications
As Music combines well with both Arts and Sciences, a range of careers are possible. However, directly musical careers may be in performance, composition, workshop leading education, publishing, arts administration and management, music law, computer technology, journalism, theatre and music therapy.
Extra Curricular
At Adeyfield, the music department is constantly active with various ensemble groups to join, as well as any instrumental lessons that are taking place. Currently we have a year 7 band, a year 8 band, a year 9 GCSE ensemble and a year 10 GCSE ensemble. Once restrictions have been lifted, the music department will be running a guitar group, a vocal group and windband, as well as opportunities for students to book practice rooms to use during designated lunch times.
Instrumental lessons
There is also the opportunity for students to be able to learn a musical instrument from orchestral instruments such as the trumpet and flute, through to guitar, drums and vocals. These lessons are part of a project called 'Project Play' run by Hertfordshire Music Service. If this is something a student is interested in, please feel free to go to their website www.hertsmusicservice.org.uk or contact The Adeyfield Academy.