Examination Results
2019 GCSE and A Level results
We are very proud of the achievements of our students who received their GCSE and A Levels results this summer.
In Key Stage 4, the students had put in a huge amount of work and were rewarded with some excellent results across a very wide range of subjects. Students were delighted with what they had achieved and every single student has gained the grades they needed to begin the next stage of their educational career. Many will be joining our growing Sixth Form to follow A Level and BTEC programmes.
Others are moving on to college having secured places in a diversity of courses including Mechanics, Animal Care and Digital Media. Some have successfully gained apprenticeships in such areas as electronics and engineering.
We are extremely proud of our students' hard work, commitment and maturity in planning their next steps in undoubtedly successful careers.
In Key Stage 5, we congratulate Year 13 on their results. Students worked hard throughout their two-year programme and were rewarded with strong results reflecting their efforts.
Nearly all students achieved their first choice of university with all applicants securing places at Higher Education institutions. Students are heading off to study a wide range of courses including Criminology, Law, Maths, Biomedical Science, English Literature and even Cyber-Security. The Adeyfield Academy will be represented right across the UK – from Brunel (London) to Bath, from Teesside to Greenwich and many other locations!
Some students have chosen to pursue higher-level apprenticeships with renowned companies such as BMW and Mercedes, whilst others have already secured full-time employment.
Mention must be made of the wider contribution to the school of this group of young people. Alongside their studies these students have supported younger members of the school with reading programmes and mentoring; have been outstanding Sports Leader ambassadors in local primary schools; have campaigned on important issues such as Mental Health and have been a winning school team in the Dacorum Dragons' Apprentice business challenge.
We wish our students every success and happiness as they move on to their destinations and very much look forward to hearing of their achievements in the years ahead.
Please see below for our breakdown of the examination results across Key Stages 4 and 5. Currently, this data is un-validated.
Link to the DofE school performance tables website here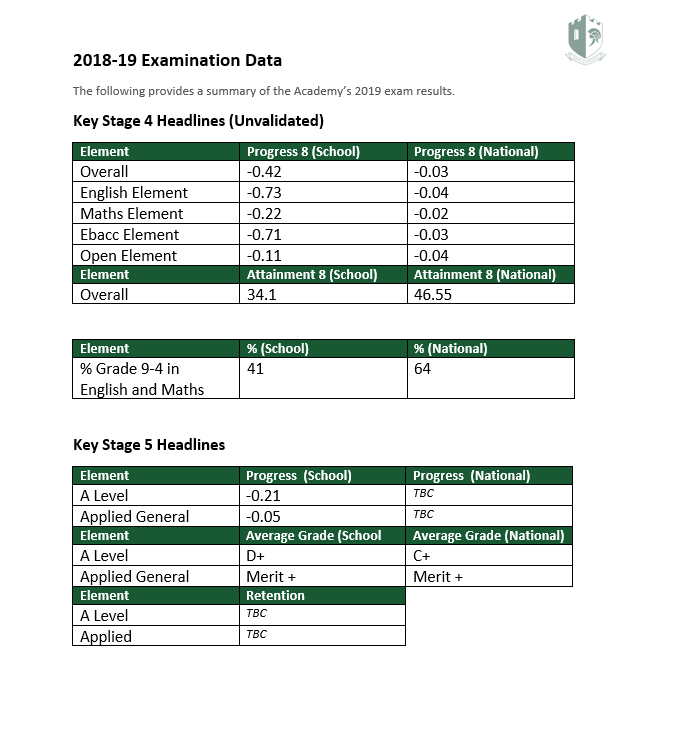 Notice for Past Students
If you took exams at The Adeyfield School between 1999 - 2018 and you did not collect your certificates, please contact the Exams Office by Friday 20th December via exams@adeyfield.herts.sch.uk to arrange the collection.
We have a large number of uncollected certificates in our archives.
Any certificates issued more than 1 year ago will be destroyed in the New Year, due to GDPR reasons.
Class of 2019
All of the certificates for the Summer 2019 exams have now been received and are ready for collection.
Please come between 9am - 2.30pm, Monday to Friday.
A friend or family member may collect them on your behalf; however they must bring a signed letter from you, giving your permission.