Music
Key Stage 3
What will be studied?
T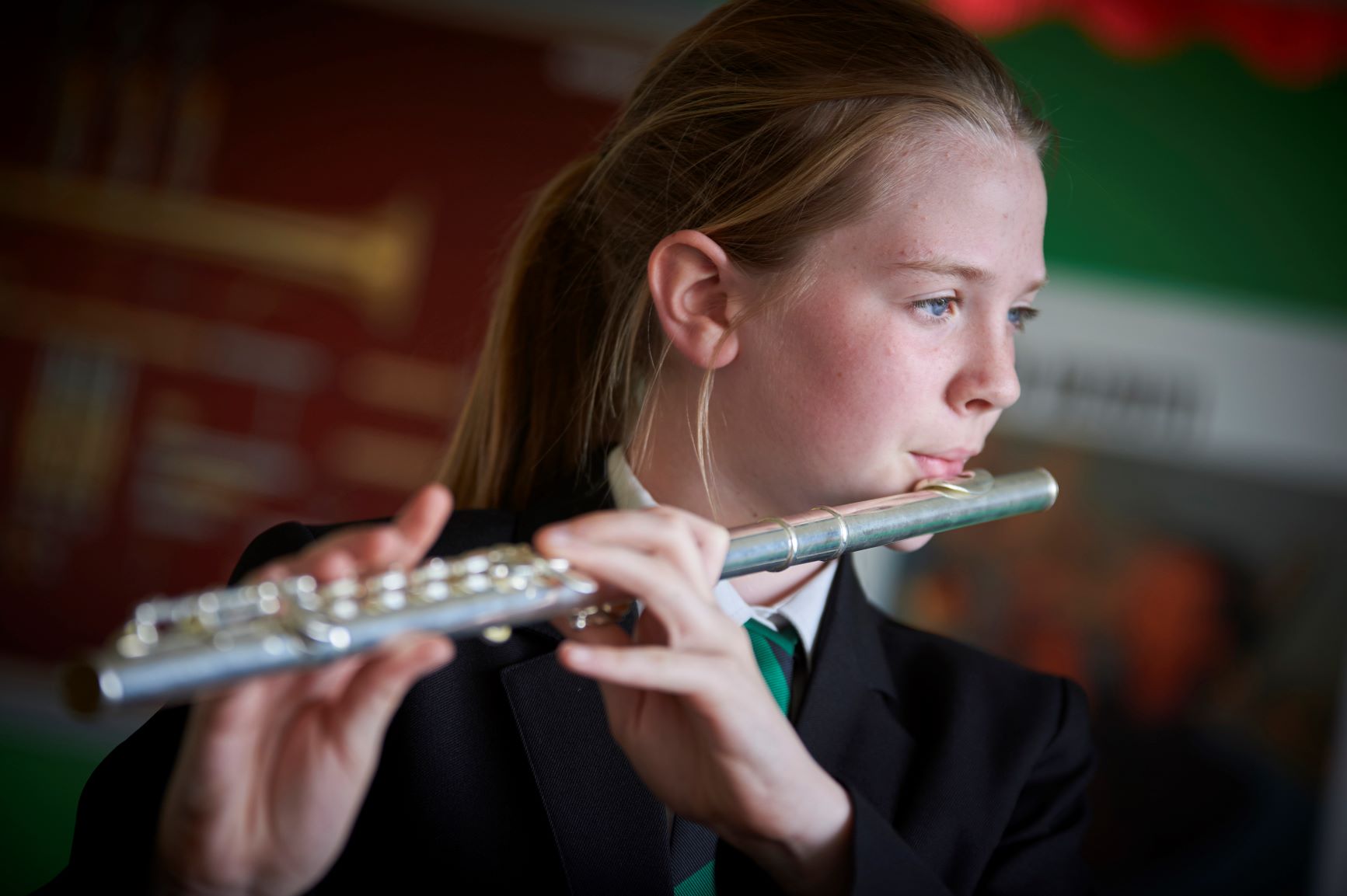 he Music curriculum is designed to promote enjoyment of, knowledge of and ability in the performance and composition of music.
We aim to develop students who can communicate musically with fluency and control of the musical resources used. They will develop knowledge of a variety of instruments, styles and approaches to performing and composing whilst also developing as effective and independent learners with enquiring minds.
They are required to develop knowledge of music technologies and their use in the creation and presentation of music. They are to learn to recognise contrasting genres, styles and traditions of music and to appreciate the diverse cultures of music, and develop some awareness of musical chronology.
Students will have the experience of being creative learners, and encouraged to broaden their musical experience and interests, developing imagination and fostering creativity, forming their own opinions through self-expression and discussion, but also by listening and considering the thoughts and feelings of others. They will develop a knowledge of an appropriate musical language to reflect upon and evaluate musical performances.
We aim to equip students with the tools to take opportunities to participate in musical activities within school, in external bands and choirs and offering guidance for those wishing to perform at a higher level.
GCSE Music
---
Exam Board: EDEXCEL
Specification Number: 1MU0
E
ntrance Criteria
Students wishing to study GCSE Music must either be currently taking lessons on an instrument of their choice, willing to start learning an instrument or be a keen and enthusiastic singer. They must also have a keen interest in listening to music, performing music, and exploring music through composition in a wide variety of classical and popular styles.
Course Content
The GCSE Music course builds on skills learnt in Years 7, 8 and 9 concentrating on the practical skills of
performing, composing and listening. Students will study, perform and compose a wide range of music
from the following 4 areas of study. Each area of study will have two set works, a range of performance
pieces and some composition briefs.
Areas of Study
Instrumental Music 1700–1820
Vocal Music
Music for Stage and Screen
Fusions
Mode of Assessment
GCSE Music is a combination of 2 non-examined assessments (60%) and 1 written exam (40%).
Component 1 Performing 30% NEA - Perform as a soloist and as a member of an ensemble
Component 2 Composing 30% NEA 2 - Create 2 compositions to set brief
Component 3 Appraising 40% - 1 hour 45 minute Exam based on the 4 Areas of Study
The GCSE Music course is extremely practical and creative and would suit any student who has an
interest or flair for creating and performing music. Students will learn to perform, compose and
appreciate different types of music, developing critical and creative thinking, cultural, aesthetic and
emotional awareness, and the ability to make music individually and as part of a group.
---
A Level Music
Level of Course: 3
Entry Requirements
GCSE Music Grade 6.
Students will need to perform a recital on their chosen instrument in March of the second year.
This must be at least a Grade VI standard. Therefore, students should be at a Grade V standard at the start of the course, with the view to being able to the minimum standard of Grade VI by March of the second year.
Under some circumstances, students who have not followed a GCSE course will be accepted dependent on a demonstration of proficiency in music theory (e.g. Grade V Theory or higher) and performing on an instrument or voice.
Area of study
Unit 1: Performance
A recital of two (25% of final grade) or three (35% of final grade) pieces on their chosen instruments. One of the pieces in the 25% option, and two of the pieces in the 35% option must link to an Area of Study. The recital should be of between 6 and 8 minutes for the 25% option, and 10 and 12 minutes for the 35% option at a minimum standard of Grade VI.
Unit 2: Composition
A choice of two (25% of final mark) or three compositions (35% of final mark). Depending on the option, one or two of these will be in relation to a brief set by the board, and the second or third will be a free choice.
Total time for the 25% option would be 4-6 minutes, and for the 35% option, 8-10 minutes.
Unit 3: Students sit a 2 hour written paper 'Appraising'
Knowledge and understanding of musical elements, contexts and language will be explored through the study of set works that fall into the following categories; The Western Classical Tradition, one of Rock & Pop, Musical Theatre or Jazz and one of Twentieth Century Music, or Music into the Twenty-First Century.
Students will also be required to apply this knowledge to unfamiliar works.
Expectations of students
To regularly attend instrumental or vocal music lessons and to participate in at least one extra-curricular Music club, set preparation to be completed as well as background reading and listening around the historical context of set works. Regular instrumental practice must be undertaken.
Learning methods
A combination of learning methods will be employed - ranging from research lessons, teacher and student led score analysis, practical performance, individual composition time and listening and harmonic exercises.
Careers implications
As Music combines well with both Arts and Sciences, a range of careers are possible. However, directly musical careers may be in performance, composition, workshop leading education, publishing, arts administration and management, computer technology, theatre and music therapy.
Extra-Curricular
Hertfordshire Music Service is now beginning to plan for the 'new normal' and looking into how we can best support schools as we all begin to learn more about keeping our pupils and teachers safe.
Are you able to keep music at your school going at the moment?
HMS can help you with this. There will be a time when pupils will come back and HMS can help to ensure music at your school keeps going during lockdown.
Online music lessons give pupils the structure, aspiration and engagement they desperately need right now.
Let us know what you want and need – we'll work with you to find a virtual solution whilst restrictions are in place.
Start by sending out the attached flyer to your pupils who learn an instrument, or send them a link to our homepage www.hertsmusicservice.org.uk and we will do the rest.
We are now teaching over 2,600 pupils online having partnered with Musictutors.co.uk to create a fully secure, safe and well supported virtual learning experience for HMS pupils.
HMS needs your help.
A number of families and some schools made the decision to 'pause' lessons for the Summer Term, expecting face to face lessons to resume in September. However, it is now becoming clear that this may not be possible in full until much later in the upcoming academic year.
As Music Mark's recent 'Music Unlocked' guidance reveals, it could even be January 2021 or later before face to face lessons can fully resume in some schools.
The music service's mission is to enable every young person in Hertfordshire to find or develop their own unique musical voice, and your help in encouraging pupils to enrol for online lessons will enable HMS to achieve this goal.
Our partnership with schools ensures the academic, social and wellbeing benefits of music education are accessible to all young people, and I look forward to working with your school to make music a part of your school's 'new normal'.