Coronavirus / Distance Learning Information
WASH HANDS > COVER FACE > MAKE SPACE
---
We continue to review the ongoing situation with Coronavirus on a daily basis and we update parents according to Government guidelines.
For more information and guidance please click on this link: Government Guidance on Coronavirus - Covid-19
Here you can find the latest guidance from the DfE (Department for Education) for Parents on keeping children safe from harm during COVID 19 outbreak.
In addition to the links above on the UK government's response, the following information is taken from the Department for Education and Public Health England's COVID-19: guidance for educational settings:
There is currently no vaccine to prevent COVID-19. The best way to prevent infection is to avoid being exposed to the virus.
There are general principles anyone can follow to help prevent the spread of respiratory viruses, including:
washing your hands often - with soap and water, or use alcohol sanitiser if hand washing facilities are not available. This is particularly important after taking public transport

covering your cough or sneeze with a tissue, then throwing the tissue in a bin. See Catch it, Bin it, Kill it

people who feel unwell should stay at home and should not attend work or any education or childcare setting

pupils, students, staff and visitors should wash their hands:

before leaving home

on arrival at school

after using the toilet

after breaks and sporting activities

before food preparation

before eating any food, including snacks

before leaving school

use an alcohol-based hand sanitiser that contains at least 60% alcohol if soap and water are not available

avoid touching your eyes, nose, and mouth with unwashed hands

avoid close contact with people who are unwell

clean and disinfect frequently touched objects and surfaces

if you are worried about your symptoms or those of a child or colleague, please call NHS 111. Do not go directly to your GP or other healthcare environment

see further information on the Public Health England Blog and the NHS UK website
PHE has a suite of materials that contains public health advice about how you can help stop the spread of viruses, like those that cause COVID-19, by practicing good respiratory and hand hygiene. To access, download and share this information you will need to register for an account which only takes a couple of minutes.
Face masks for the general public, pupils or students, or staff are not recommended to protect from infection, as there is no evidence of benefit from their use outside healthcare environments.
The situation regarding NHS/Government advice is changing daily. Please follow this link https://www.nhs.uk/conditions/coronavirus-covid-19/ for up to date changes.
---
School Closure - Distance Learning Contingency Plans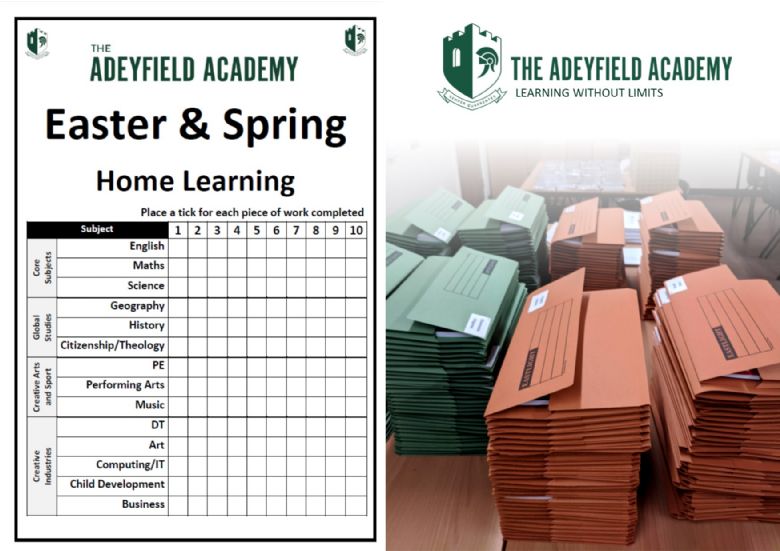 Please see the Distance Learning Guide presentation below which outlines where and how to access Distance Learning materials for students
In the event of the school closing as a result of the current coronavirus pandemic, contingency plans will be put in place.
In the instance of learning being accessed from home, teachers will distribute learning through ClassCharts. Students will be given a timeframe and instructions on how to submit work undertaken by their teacher - some work will be submitted online and some reviewed upon our return to school.
Further specific details will follow as and when required.
Remote learning links are listed below with an explanation of how they can be used to support and enhance learning that will be distributed through ClassCharts.
ClassCharts is the primary source of Home Learning contact between teachers, students, parents and carers. Any learning to be undertaken will be distributed through this system which may include links to other online learning formats.
Google Classroom is a platform that allows teachers to upload lesson resources, share articles and set tasks. Google Classroom areas are subject and class specific.
GCSEPod is an online revision website that has thousands of 'pods' that students can watch, listen to and test themselves on all GCSE subjects studied. Students in all year groups can access the content and students who have not been onto the system should click on 'New Here? Get Started' on the menu screen.
BBC Bitesize is an online revision, information and examination preparation resource website made by the BBC. There are KS3, GCSE and Post 16 sections available on the website as well as other pertinent information and content (including Careers).
JSTOR is a resource library which is largely used at KS5 but can be accessed to extend learning across KS4 and KS3 too. The site consists of scholarly content that students can access for further wider reading around their areas of study for all subjects.
---
Faculty Specific Virtual Distance Learning
Below is a link to the Instructions for each faculty in terms of protocol and opportunities for Distance Learning. Each is broken down into the relevant Key Stage that is applicable to the young person in your care.