National Poetry Day Thursday 1st October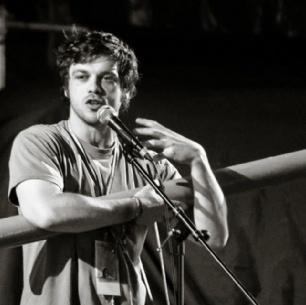 Acclaimed Poet Adam Kammerling will be running poetry workshops with Year 9 students on Thursday 1st October.
Adam Kammerling is the UK Hammer And Tongue Slam winner for 2012. He performs all over the country as an MC and spoken word artist. He also facilitates rap and poetry workshops for young people at Key Stages 2-4. As well as countless one-off writing/performance workshops with ages 7-18, Adam has worked as youth support at centres in Brighton and led Healthy Relationship workshops with Tender.
1st prize a signed book by Adam Kammerling, runner up prizes will be Amazon vouchers and all entries will have received a reward.
Please read our two winning poems
You Are Special by Lacy J 8-3
When times are tough, and times are rough And you are feeling down, Don't despair, Someone will be there Because you are special.
You are a light, That shines so bright, In other people's lives. You innovate You inspire You are definitely special.
If you are bullied, broken , upset Or feeling like a tot Just remember Whatever the weather Whatever the problem Whatever the worry You are special no matter what.
Beauty, Kindness by Alice C 9-4
Today I wanted to look into the lake, One look is all it would take, Just enough for me to truly see, me for me, I knew that I would be breaking an important rule, But there are some things that they simply can't teach you at school Things such as pure kindness and beauty Which explains why some people grow up really snooty They care too much about their physical appearance Which won't get them through their studies without any coherence Beauty is something that can be defined in many ways Some people are just purely kind, which is the quality that stays And it is not what they wear or the big deal with their hair They can be shy or bold, young or old and that is no reason to stare They are them and they can't change that They are not pets like your dog or cat Now when you leave take out with you this:
You are you and there is no-one more that we would miss!