Thank a Teacher Wednesday 20th May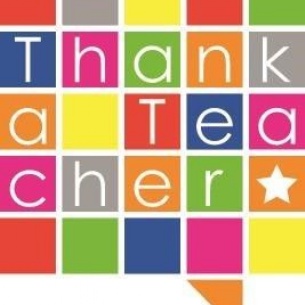 National Thank a Teacher Day is a day when we can come together to say Thank You to our teachers who make a huge difference to our student's lives - not just now during these unprecedented times - but every day!
This will take place this year on Wednesday 20th May 2020. We will be celebrating and thanking teachers on social media all that week.
With the #ThankATeacher and #HowWillYouSayThankYou hashtags we are encouraging students and parents to share their message of thanks, ideally in a video clip - leading up to the day. This can be in an expression of their choosing - singing a song, writing and/or reciting a poem, or sharing a picture of a drawing.
You can find more detail here https://thankateacher.co.uk/thank-a-teacher-day/
It's National Teachers Day!
A teacher's job isn't done when our bell rings at the end of the day. We go home to think about the next day's lesson, review papers, and tailor lesson plans to get our young learners excited about their next learning experience.
I would like to thank each and every member of our teachers and school staff for all that they are doing during this time, facing different challenges and for adapting to the new way of remote learning.
Keep up the great work!
"Education is the passport to the future, for tomorrow belongs to those who prepare for it today." - Malcolm X