Easter Enrichment Activity Packs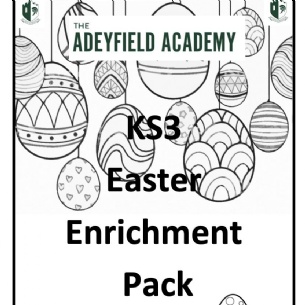 Please download the pack at the bottom of the page for resources across KS3. These are also suitable for students in KS4/5 as well, should they choose to engage with them.
Have a Happy Easter!
Easter is a time to come together, take stock and remember that actually in these most trying of times
nothing is more important than the time we spend with our families, a message which is true for both
students and staff. With this in mind, we would like to ask that for those students who've worked really
hard, across all Key Stages this half term, now is a time to engage in a slightly different daily diet. Therefore,
staff have lovingly put together an 'Easter Menu' of enrichment activities with a curriculum edge, which
can be shared by all of the family. These range from games, films, documentaries and much more.